Fees
We'll package the fees in a way that suits you.
Fixed fees, success fees, hourly fees.
Our fees
Standard hourly rates (excludes Rapid Response & Premium work)
Law-as-a-Service Subscription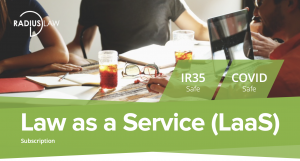 Law-as-a-Service Subscription offers a fixed monthly fee for legal services, regardless of volume.
You can pick the service level that's right for you from Bronze 'hand-holding' service to Platinum with all the 'bells and whistles'.
Click here  for full details and pricing.
Law-as-a-Service Pay-As-You-Go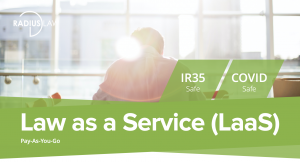 If you prefer to not commit to a fixed monthly price service, you can Pay-As-You-Go.
In return for a minimum monthly spend commitment, we'll make a significant reduction in our hourly rates too – reducing our standard rates from £300 p/h + VAT to as low as £225 p/h + VAT.
Premium work
High value and complex matters –  Standard rates + 20%
Rapid response:
Work is required on an urgent basis (less than 1 week)  – Standard rates + 20%
Legal support services:
From £120 p/h plus VAT – learn more
Residential Real Estate – read more
Commercial Real Estate – read more
Employment – Fees for bringing and defending claims for unfair or wrongful dismissal in an Employment Tribunal- read more
Fees for debt recovery up to £100,000 – read more
---
NOTE:
The fees are subject to payment of our fees in-line with our agreed payment terms. An administration fee of £75 per hour will be charged for any time spent pursuing or collecting any outstanding debt.
Radius delivers practical uncomplicated advice, on time and at reasonable rates...
Glenn Pitzer CFO - Currie Motors Group