Law as a Service
Extend your team with LaaS
If you need regular access to a lawyer then our Law as a Service programme may be suitable for you.
You can benefit from:
significant reduction on hourly rates
increase/decrease as you require
terminate on one month's notice at any time
all experienced commercially proven lawyers
no NI costs, no training costs, no recruitment costs
all advice backed by indemnity insurance
includes back-up with law firm's precedents and know-how
Choose a format below that suits your needs, either a subscription service or pay as you go model.
Law-as-a-Service Subscription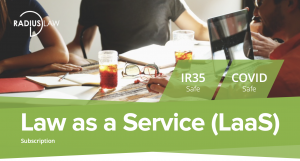 Law-as-a-Service Subscription offers a fixed monthly fee for legal services, regardless of volume.
You can pick the service level that's right for you from Bronze 'hand-holding' service to Platinum with all the 'bells and whistles'.
Law-as-a-Service Pay-As-You-Go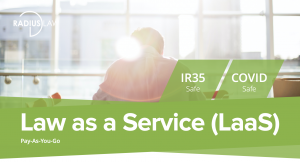 If you prefer to not commit to a fixed monthly price service, you can Pay-As-You-Go.
In return for a minimum monthly spend commitment, we'll make a significant reduction in our hourly rates too – reducing our standard rates from £250 p/h + VAT to as low as £190 p/h + VAT.
'In all of our dealings with the Radius Law team, they have delivered more than just legal advice. They have proactively thought about the risks and opportunities of our business and have guided us with practical solutions.
Ken Glass Group Financial Controller, Mercedes-Benz Hertfordshire